Ben Hatch
Faculty
Departments:
Academic Support 
Athletics 
Electives 
Science 
Skills 
Student Support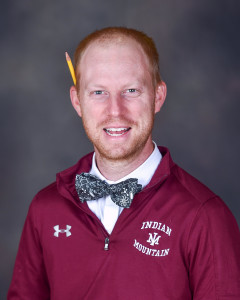 Ben Hatch grew up on a small family farm and has spent most of his life in Western Massachusetts. He learned he wanted to become a teacher through his experiences in scouting and summer camps. At the end of high school, he decided to share his passion for discovery by choosing to teach science. He majored in Chemistry and Education during his undergraduate work at Westfield State, minoring in biology and math. During these years, Ben competed in cross country, track and field, and ultimate Frisbee.
After college, Ben taught science and math as well as coached during the fall, winter, and spring. In his short coaching career, Ben's brought individual athletes and relay teams to New Balance Nationals on three separate occasions. After several years of teaching, Ben furthered his education by obtaining a master's degree from Elms College in chemistry education.
Ben has traveled the country competing in the Grand Prix circuit for Magic, The Gathering, earning pro points, and nearly missing qualification for the Pro Tour on multiple occasions.
Ben is married to a geologist, Jenn, who teaches science at Hotchkiss. She may be the reason Ben is balanced. They have two dogs, Kelsie and Kubo, and two cats, Bumi and Pixel. Ben's favorite thing to do is play. If you want to put a smile on Ben's face, introduce him to a new challenge or game.