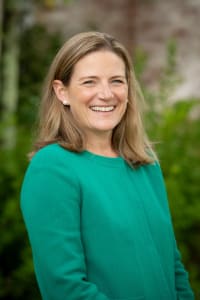 Jody Reilly Soja became the ninth head of school in 2015. Raised in a family of educators in Middlebury, VT, Jody graduated from Bates College and later earned her Ed.M. in Teaching and Learning from the Harvard University Graduate School of Education.
In 1999, Jody first accepted a position at IMS as a history and ESL humanities teacher. She also coached soccer and lacrosse and worked as a residential faculty member. Over the next 10 years, Jody became an integral member of the IMS community. She filled various positions and roles in addition to teaching history, including assistant athletic director, assistant dean of studies, upper school head, dean of faculty, and dorm head. From 2003-2009, Jody lived with her husband, Kevin Soja, at the Millbrook School while she worked at IMS. After leaving IMS in 2009, Jody taught history and coached lacrosse at Millbrook. In 2011, Jody was hired to be the head of the middle school at National Cathedral School, a private all-girls school in Washington, D.C. She held that position for four years until returning to the Mountain to become the ninth head of school.
Jody also serves as a trustee for The Association of Boarding Schools (TABS), and formerly was a board member for the Connecticut Association of Independent Schools (CAIS) and the Elementary School Heads Association (ESHA).
Jody lives on campus with her husband Kevin and her two sons, Russell and William. They are all proud members of the maroon team.